Preventive Healthcare made easy for refugee mums and children
During pregnancy, refugee women receive an average of one pregnancy checkup. The World Health Organization recommends at least eight. What's more, only 10% of refugee children are fully vaccinated. HERA is changing this.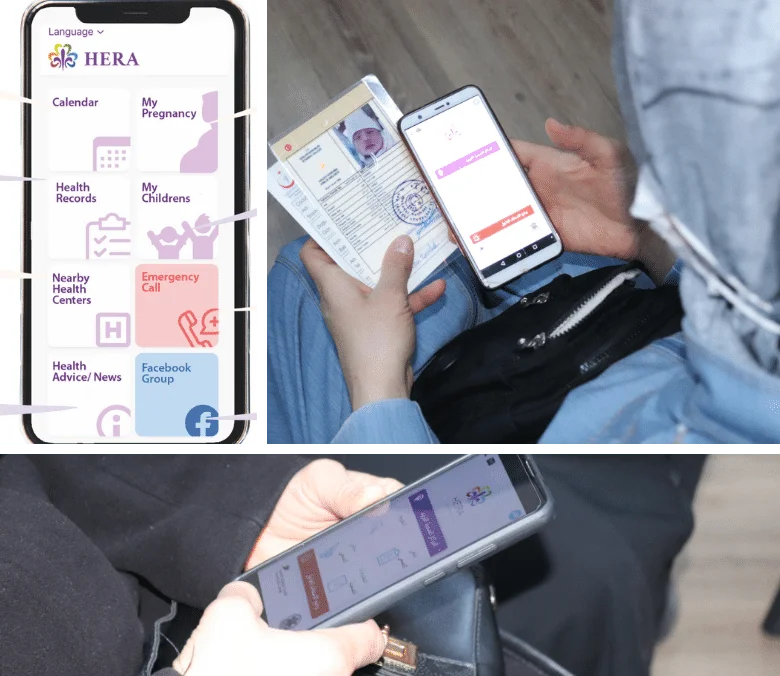 HERA's mission is to provide a mobile health platform that connects refugee populations with existing healthcare worldwide. 
As the first step to achieving our mission, HERA aims to increase the rate of prenatal care and childhood vaccinations among Syrian refugees in Turkey under temporary protection. 
HERA plans to expand its coverage during the subsequent stages to provide services to refugees worldwide. 
Our proven, well-tested digital healthcare app reduces preventable deaths by removing the demand-side barriers that stop refugees from accessing childhood vaccinations and prenatal care.
refugee families in Turkish study
HERA (which stands for Health Records App) is an open-sourced mobile health (mhealth) platform that aims at increasing the uptake of preventive health services for pregnant women, and immunization for children under two years of age. Through a mobile app, the platform enables users to receive healthcare appointment reminders, receive health information, store centralized medical records, contact emergency services, and navigate the healthcare system of the host country in multiple languages. The app is currently available in Arabic, Turkish, English, and Dari.
August 12, 2022
In honor of Refugee Week this past June, we presented our virtual #tech4refugees pitch with @techfugees, see out pitch under Challenge#2:Access to Health! HERA DIGITAL HEALTH (TURKEY,
[…]
July 20, 2022
Thank you monday.com for supporting HERA through the Digital Lift Software Grant! This support helps us connect with our team all around the world by using
[…]
April 5, 2022
Keeping track of your medical appointments are a need everywhere! We piloted HERA with refugee communities in Omaha Nebraska together with Fatima Connect lead by Ayah
[…]
Help us Change Lives of Refugee Women and Children!